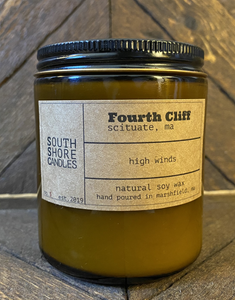 Perch up on Fourth Cliff! Enjoy the ride out. This floral breeze scent will place you at the top of the cliff, looking over the South River, North River, Damon's Point, The Spit, the open ocean, and down Humarock beach. This is a light floral but make no mistake, still packs a punch!
Our 7.3 oz. candles have cotton wicks and will burn for 40-50 hours with proper care and use (see the bottom for details!)
Our 12 oz. version, in the same great style, will burn for up to 90 hours with proper care!