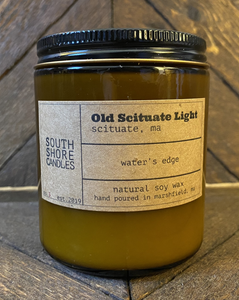 Old Scituate Light! Pick a spot on the jetty, have some lunch. Hop around and see Scituate Harbor. This fresh scent carries citrus and juniper and is the perfect gateway into the classic New England forest terrain. 
Our 7.3 oz. candles have cotton wicks and will burn for 40-50 hours with proper care and use (see the bottom for details!)
Our 12 oz. version, in the same great style, will burn for up to 90 hours with proper care!